SOLD OUT
The Sonny Angel Town Musicians
SOLD OUT
The Sonny Angel Town Musicians
Sonny Angel appears in the world of Grimm's Fairy Tale, the "Town Musicians of Bremen"! New Release:『The Sonny Angel Town Musicians』!
Introducing "The Sonny Angel Town Musicians" with the theme of the world-famous Grimm's Fairy Tale, the "Town Musicians of Bremen"! In this series, you will be entertained by a Sonny Angel musical troupe performing with various instruments.
If you listen closely, you may hear the music Sonny Angel plays.
In the original fairy tale, each chicken and donkey has a unique musical instrument, just as each Sonny Angel has in this series. We also call your attention to the cute costumes including scarves and vests never seen before on Sonny Angel.
We hope you will enjoy bright and entertaining music with Sonny Angel!
『The Sonny Angel Town Musicians』 Line Up
Sonny
Sonny conducts the music troupe. His baton is a musical note, and he sports a feather in his hat.
Donky
The donkey is wearing cute green pants while he gently plays his guitar.
Dog
The dog has a beret on his head. You can hear the lively beat he keeps on his drum.
Cat
The cat is playing an accordion. His hat is the same color as the accordion and is very fashionable!
Rooster
The Rooster plays the French Horn. The scarf around his neck is so cute.
Thief
A Mouse Thief is holding the delicious cheese he has stolen. He has a thin beard and mustache around his mouth.
Order Limit
Up to 2 Assort Boxes (24 Blind Boxes).
(*Please be aware that the orders with duplicated Accounts, names, address and phone numbers may be cancelled without prior notice.)
◆ Product weight:Approx.29~33g
◆ Product material:ATBC-PVC
◆ Product size:Approx. W25~35×H78~82×D25~31/mm
◆ Package size:Approx. W50×H102×D45/mm
◆ Assort Box size:Approx. W201×H107×D135/mm
◆1 Blind Box : ¥935 (excl. tax ¥850)
◆1 Assort Box (Contains 12 Blind Boxes) : ¥11,220(excl. tax ¥10,200 )
(*Please note that not all types may be available even when purchased in the assort box.)
You can earn the following SA points via the official SA app for this item.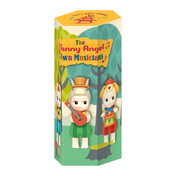 The Sonny Angel Town Musicians
SA Point 1
The Sonny Angel Town Musicians Assort Box
SA Point 12
If you register as a new member of the SA App using the same email address as the login email address of this official online store, you will be able to accumulate SA Points in the App.Earn SA points for purchases at the Sonny Angel Official Store which you can redeem for wonderful prizes!
For more details, click here>>
Please see before making a purchase
OFFICIAL SNS