NEW SOLD OUT
Plush Collection -Cuddly Rabbit-
NEW SOLD OUT
Plush Collection -Cuddly Rabbit-
New Release "Sonny Angel Plush Collection - Cuddly Rabbit", a cute rabbit stuffed toy with long ears.
A new Sonny Angel stuffed toy "Plush Collection" is now on sale. This second edition is a cute rabbit with long ears. As with the first Sonny Angel plush, the fabric is fluffy and soft to the touch. Sonny Angel is holding a carrot in both hands, We think you will love it.
The long ears contain a wire which allows you to bend and shape them as you like. You can bend them diagonally to create a cute expression or let them hang down to show the rabbit is relaxing. Make both ears stand up straight and the rabbit is curious and alert. Try changing the stuffed Sonny Angel's expression according to your mood and environment.
The carrot and Sonny Angel's hands contain magnets so the carrot can be removed. His jointed arms can move freely, so you can adjust him to different poses. What cute pose can you think of for Sonny Angel?
With this Sonny Angel plush on your lap, you can experience a moment of soothing comfort as if a Sonny Angel is snuggling up to you. It's perfect for time spent relaxing and makes for an ideal companion while reading. Share some happy moments with your Sonny Angel plush. Additionally, it serves as a lovely interior accent, transforming your room into an even more cozy and comfortable space.
Each Plush Collection figure is gift-boxed with a space dedicated to writing a message, making it a wonderful gift item. There is also a certificate card included on which you can write your name, the nickname of the plush toy and the date you received it.
■Sonny Angel Plush Collection -Cuddly Rabbit-Lineup
Available in two colors. The White version blends seamlessly into any room decor, while the calm and sophisticated Cute Pink adds a touch of tranquility to your home.
◆Product weight:Approx. 590g
◆Product material:Polyester, Magnet, PVC, EVA
◆Product size:Approx.W220×H275×D180/mm(lop-eared)
Approx.W220×H450×D180/mm(stand up-eared)
◆Package size:Approx. W225×H285×D190/mm
◆Package weight:Approx. 880g
You can earn the following SA points via the official SA app for this item.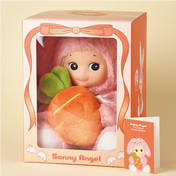 プラッシュコレクション -カドリーラビット- ピンク
SA Point 4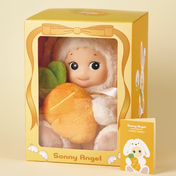 プラッシュコレクション -カドリーラビット- ホワイト
SA Point 4
If you register as a new member of the SA App using the same email address as the login email address of this official online store, you will be able to accumulate SA Points in the App.Earn SA points for purchases at the Sonny Angel Official Store which you can redeem for wonderful prizes!
For more details, click here>>
Please see before making a purchase
OFFICIAL SNS