ALIVE/Book Farm Yamasaki Yumiko
ALIVE/Book Farm Yamasaki Yumiko
Working with the theme, which is TOKYO CITY POP, and the keywords "aesthetic fusion of old and new," I came up with an image of Native Americans (Indians) in CITY POP colors and painted the clothes with red and yellow accents on a sky blue base.
I was mindful to use dark colors, like the colors of Native American Indian hair, for the Shinba Inu dog hood sitting on Sonny Angel's head. The spirit of the Native American people is to respect nature and honor other people.
It is full of generosity and abundance.
I've layered this spirit onto the mellow, deep genre of CITY POP to create a fusion. The stone in the necklace is natural turquoise.
I often get ideas for the motifs in my paintings from plants and animals, which I hold in awe. I feel that's influenced me in creating this work in this way.
You can earn the following SA points via the official SA app for this item.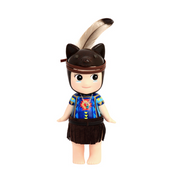 ALIVE/Book Farm Yamasaki Yumiko
SA Point 35
If you register as a new member of the SA App using the same email address as the login email address of this official online store, you will be able to accumulate SA Points in the App.Earn SA points for purchases at the Sonny Angel Official Store which you can redeem for wonderful prizes!
For more details, click here>>
Please see before making a purchase
OFFICIAL SNS