SOLD OUT
New York series 2019 - Minifigure
SOLD OUT
New York series 2019 - Minifigure
In this new special series, you can find glamorous NYC-style Sonny Angels!
Each figure expresses NYC culture with features and images inspired by The Big Apple!
Each Sonny Angel has a pop and flashy motif, different from usual ones.
You can surely feel the pleasant atmosphere of NYC!
NY city designed "Display Kit Box" will also be available !!
The "Display Kit Box" is a set of 4 Sonny Angel and a special Display.
Decorate together with four Sonny Angel will change your room like NY!
Figures comes in a blind box and let's open the box to see what you get!
Total lineup of 4 different figures + Secret figures.
One assortment box contains 12 blind boxes.
(*The secret figures are distributed randomly and may not always be included in one assort box.)
◆Product weight : Approx. 27~33g
◆Product material : ATBC-PVC
◆Product size : Approx. H79~83/mm
◆Package size : Approx. W52×H102×D45/mm
◆AssortBox size : Approx. W215×H107×D140/mm
◆DisplayKitBox size : Approx. W211×H144×D55/mm
◆1 Blind Box : ¥935 (excl. tax ¥850)
◆1 Assort Box (Contains 12 Blind Boxes) : ¥11,220(excl. tax ¥10,200)
◆1 DisplayKitBox (Contains 4 Blind Boxes) : ¥4,180(excl. tax ¥3,800)
(*Please note that not all types may be available even when purchased in the assort box.)
Gift wrapping bag
To make gifting Sonny Angel more fun, the Sonny Angel's "Rabbit" motif gift bags are available in 2 sizes.
・Order limit: 1 piece of each size (M size & S Size) per customer.
・Gift Wrapping Bag is not sold individually. Please purchase at the same time as other Sonny Angel products.
・Bag will be supplied separately with other ordered items.
Order Limit
Up to 2 Assort Boxes (24 Blind Boxes).
(*Please be aware that the orders with duplicated Accounts, names, address and phone numbers may be cancelled without prior notice.)
You can earn the following SA points via the official SA app for this item.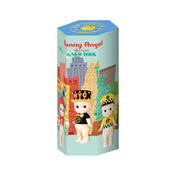 New York series
SA Point 1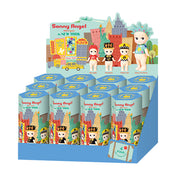 New York series AssortBox
SA Point 12
New York series Display Kit Box
SA Point 4
If you register as a new member of the SA App using the same email address as the login email address of this official online store, you will be able to accumulate SA Points in the App.Earn SA points for purchases at the Sonny Angel Official Store which you can redeem for wonderful prizes!
For more details, click here>>
Please see before making a purchase
OFFICIAL SNS