New Release : Send your love in the languages of the world!『Sonny Angel Message of Love』
Sonny Angel holds a big heart in both hands. On each heart you will find the words, "I love you" in different languages.
Decorated in pastel pink tones with hearts decorating his clothes, Sonny Angel will help you convey your love to that special someone.
On Valentine's Day or any special day, why not ask Sonny Angel to help you say, "I love you" in languages of the world.
The popular animal motifs and heart designs combine to create a healing series full of heart throbbing "kawaii". Just seeing the colorful hearts will bring a feeling of love and comfort.
6 kinds + 2secrets
Each package is filled with the sentiment "I love you". The cute hearts are visible from every angle. On the top of each box is a design of the earth with the wish: "A message of love from Japan to the world."
■『Sonny Angel Message of Love』 Line up
Dalmatian / 愛してる
The Dalmatian headgear has a beautiful color palette of subdued pale pink and red hearts. The heart held in both hands says "I love you" in Japanese. It's a simple, but beautiful sound.
Rabbit / I Love You
The head of the rabbit, with its cute folded ear, is designed with a lot of pink and red hearts. A bright red heart with the words "I Love you" in white English letters is a romantic finish.
Fennec Fox / 我愛你
The first motif in the history of Sonny Angel, the fennec fox, joins this collection. The large triangular ears are a distinctive feature of the fennec fox. 我愛你", "I love you" in Chinese, is printed on the heart.
Mouse / 사랑해요
The bright pink mouse has two heart-shaped ears that are charming. The heart held in both hands is painted with the Korean words "사랑해요" ( I love you).
Deer / Je t'aime
The large antlers of reindeer are known as a "symbol of happiness" in some parts of Northern Europe and may bring you luck in love. The French words "Je t'aime" (I love you) express your sentiments.
Cow / Te amo
The cow headgear is decorated with a large heart with a beautiful contrast of white and red. The Spanish words, "Te amo" (I love you) will passionately convey your love.
Order Limit
Up to 2 Assort Boxes (24 Blind Boxes).
(*Please be aware that the orders with duplicated Accounts, names, address and phone numbers may be cancelled without prior notice.)
◆ Product weight:Approx.29~31g
◆ Product material:ATBC-PVC
◆ Product size:Approx. W27~41×H75~95×D26~29/mm
◆ Package size:Approx. W50×H102×D45/mm
◆ Assort Box size:Approx. W201×H107×D135/mm
◆1 Blind Box : ¥935 (excl. tax ¥850)
◆1 Assort Box (Contains 12 Blind Boxes) : ¥11,220(excl. tax ¥10,200 )
(*Please note that not all types may be available even when purchased in the assort box.)
You can earn the following SA points via the official SA app for this item.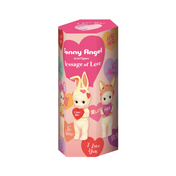 1 Blind Box
SA Point 1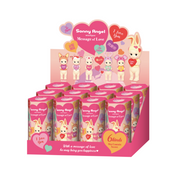 Assort box (12 Blind Box)
SA Point 12
If you register as a new member of the SA App using the same email address as the login email address of this official online store, you will be able to accumulate SA Points in the App.Earn SA points for purchases at the Sonny Angel Official Store which you can redeem for wonderful prizes!
For more details, click here>>
Please see before making a purchase
OFFICIAL SNS