NEW
MASTER COLLECTION - Heart Rabbit - 2023
NEW
MASTER COLLECTION - Heart Rabbit - 2023
The third installment of the Sonny Angel Master Collection is "Heart Rabbit". This uplifting design is filled with Sonny Angel's message of love.
Beautiful modeling and meticulous painting make this Master Collection angel very life-like. This gem was created by the hand of a skilled sculptor.
"Heart Rabbit" features adorable Sonny Angel holding a large heart cushion with both hands. In addition to the sophisticated design of this Master Collection figure, the ample weight and luxurious finish of the polystone material is sure to bring you joy for years to come.
As a daily soothing and familiar presence, you will feel embraced with your first glimpse of this fabulous Sonny Angel. The luxurious design will make a beautiful decorative accessory.
The softness and expression of the face buried in the large heart cushion, the tilt of the neck, and the upper arms cradling the heart create a dynamic impression as if this angel was alive.
The luxurious packaging makes it the perfect gift for a special occasion such as an anniversary, birthday or holiday. Add your own message to the included greeting card to make it even more special for the recipient.
『Sonny Angel MASTER COLLECTION -HEART RABBIT-』will be released on the 9th November, 2023.
※Release dates vary by country.
※Please note : Release date and product specifications may be changed, postponed or canceled without notice.
◆ Product weight:Approx.489g(Included Package:855g)
◆ Product material:Polystone
◆ Product size:Approx.W70×H174×D83/mm
◆ Package size:Approx.W116×H219×D130/mm
◆ 1 Box:¥13,200 (excl. tax ¥12,000)
Order Limit
Up to 2 .
(*Please be aware that the orders with duplicated Accounts, names, address and phone numbers may be cancelled without prior notice.)
You can earn the following SA points via the official SA app for this item.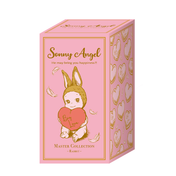 MASTER COLLECTION - Heart Rabbit -
SA Point 13
If you register as a new member of the SA App using the same email address as the login email address of this official online store, you will be able to accumulate SA Points in the App.Earn SA points for purchases at the Sonny Angel Official Store which you can redeem for wonderful prizes!
For more details, click here>>
Please see before making a purchase
OFFICIAL SNS