Sonny Angel Artist Collection - LUCKY GALO !
The Sonny Angel Artist Collection, Lucky Galo, brings good luck & happiness!

Design is inspired from "Galo de Barcelos", a legendary Portuguese rooster that symbolizes good luck and happiness.

The vibrant colors and cute hand-drawn styled design makes this Artist Collection a bright and happy addition to your collection!
※ Each figure comes with a matching official Authenticity Certificate Card.

NOT sold blind boxed.
160% larger than mini figures.
Order Limit: 
Up to 2 pieces of each kind (Up to 2 pairs)
(*Please be aware that orders with duplicated accounts, names, addresses or phone numbers may be cancelled without prior notice.)
◆ Products Name:Approx.140g(with Package)
◆ Products Material:ATBC-PVC
◆ Product size:Rabbit Approx.W65×H155×D40/mm
◆ Product size:Cockerel Approx.W70×H121×D70/mm
◆ Package size:Approx.W84×H163×D60/mm

You can earn the following SA points via the official SA app for this item.
Lucky Galo Rabbit
SA Point 4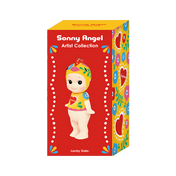 Lucky Galo Cockerel
SA Point 4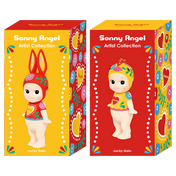 Lucky Galo Rabbit&Cockerel(Pair)
SA Point 8
If you register as a new member of the SA App using the same email address as the login email address of this official online store, you will be able to accumulate SA Points in the App.Earn SA points for purchases at the Sonny Angel Official Store which you can redeem for wonderful prizes!
For more details, click here>>
Please see before making a purchase
OFFICIAL SNS