NEW STORE ONLY SOLD OUT
H Family series
NEW STORE ONLY SOLD OUT
H Family series
Online Store Exclusive : Sonny Angel is enjoying country life!『Sonny Angel -H Family series-』
Let's experience the country life with Sonny Angel wearing overalls with the motif of popular animals which is famous in Chinese variety program "Longing Life"!
This series expresses a warm feeling of living a countryside life. With the characteristics of each character they are wearing a unique overall. Leave the noisy city, change into overalls, and enjoy a heartwarming countryside life with charming Sonny Angel wearing cute straw hat!
『Sonny Angel - H Family series -』Line up
Little H
The main character of this series. He is a veteran character in the variety program "Longing Life". Little H, who is loved by everyone, at last has his own family and has grown to become the leader of his family.
Bright orange color expresses active personality.
Little O
As a partner of Little H, cute face is very popular. One of the reasons why Little O is loved is gaining weight from the good life and changing body style together with slightly selfish characteristic.
Little Child
He is the "youngest" being loved by everyone. The refreshing blue is image of him who grew a little handsome from "child beauty".
Akari
Because of his existence as a "philosopher," he was given the cool nickname "Nicholas Akari." He's always standing there and thinking about something. The color of the suspenders and strings expresses his characteristic.
Secret
There are two types of secrets in total. The contents of the secret will be a surprise when you meet them... ♪
◆ Product weight:Approx.29~35g
◆ Product material:ATBC-PVC
◆ Product size:Approx. W30×H80×D30/mm
◆ Package size:Approx. W50×H102×D45/mm
◆ Assortment Box size:Approx. W201×H107×D135/mm
◆1 Blind Box : ¥1,100 (excl. tax ¥1,000)
◆1 Assortment Box (Contains 12 Blind Boxes) : ¥13,200(excl. tax ¥12,000 )
(*Please note that not all types may be available even when purchased in the assort box.)
『Sonny Angel - H Family series -』will be released on the 1st November, 2023 12:00pm.
※Secret Figures means a figure that has a lower appearance rate than regular figures.
※Please note : Release date and product specifications may be changed, postponed or canceled without notice.
Order Limit
Up to 2 Assort Boxes (24 Blind Boxes).
(*Please be aware that the orders with duplicated Accounts, names, address and phone numbers may be cancelled without prior notice.)
You can earn the following SA points via the official SA app for this item.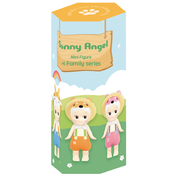 H Family Series
SA Point 1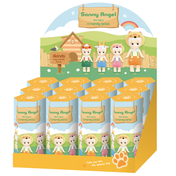 H Family Series Assortment Box
SA Point 12
If you register as a new member of the SA App using the same email address as the login email address of this official online store, you will be able to accumulate SA Points in the App.Earn SA points for purchases at the Sonny Angel Official Store which you can redeem for wonderful prizes!
For more details, click here>>
Please see before making a purchase
OFFICIAL SNS