STORE ONLY SOLD OUT
Happy New Year Series 2023
STORE ONLY SOLD OUT
Happy New Year Series 2023
New Release: Sonny Angel 2023 New Year's Day Gift Box
In honor of the Year of the Rabbit, the Chinese zodiac sign for 2023, two types of rabbit mini-figures are now available.
The retro-pop design uses an auspicious pattern appropriate for the New Year. A message card is included in the set.
Happy Rabbit
The design is based on Chinese clothing. The word "Happy" is printed on the bottom. It will be a happy year.
Lucky Rop Ear Rabbit
The design concept is fireworks. The word "Lucky" is printed on the bottom. It will bring you a lot of good luck.
◆ Product material:Polystone,Paper
◆ Figure size:Approx.W44×H76×D26~8/mm
◆ Package size:Approx.W230×D230×H385/mm
◆ Product weight(Lucky Rop Ear Rabbit):Approx.226g
◆ Product weight(Happy Rabbit):Approx.234g
Order Limit
Up to 2 each.
(*Please be aware that the orders with duplicated Accounts, names, address and phone numbers may be cancelled without prior notice.)
FOR USA and CANADA customers
This product will be available for shipment to USA and Canada after Mid-March 2023. Please be careful when ordering.
You can earn the following SA points via the official SA app for this item.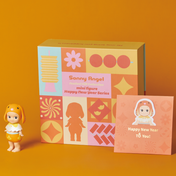 Lucky Rop Ear Rabbit
SA Point 3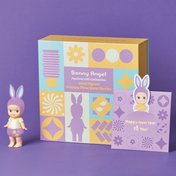 Happy Rabbit
SA Point 3
If you register as a new member of the SA App using the same email address as the login email address of this official online store, you will be able to accumulate SA Points in the App.Earn SA points for purchases at the Sonny Angel Official Store which you can redeem for wonderful prizes!
For more details, click here>>
Please see before making a purchase
OFFICIAL SNS