SOLD OUT
Halloween Series 2021
SOLD OUT
Halloween Series 2021
An Angel in costume has arrived on Halloween! The long-awaited new series, "Sonny Angel Halloween 2021", will be released to make celebratin g Halloween even more fun!
Have a fun Halloween party with Sonny Angel ♪
It has been 3 years since the last new "Halloween Series" was introduced.
Sonny Angel Halloween will come trick or treating at your house costumed as a witch or pumpkin!
With a pumpkin candy bucket, colorful lollipop or wrapped candy in his hands, he will make Halloween fun for all.
In addition to the pumpkins and ghosts that were very popular in the previous Halloween Series, this year's lineup of 6 figures + secret includes a black cat with cute round eyes.
If you decorate with Sonny Angel dressed up for Halloween, any room in your home can become a fun Halloween space ♪
■『Halloween Series 2021』Line Up
Witch
A witch with a big hat. He holds a pumpkin candy bucket in his hands.
Pumpkin
Pumpkin with a colorful lollipop. He is wearing pumpkin balloon pants.
Ghost
A ghost with a polka dot candy. This ghost isn't scary; he has a gentle smile.
Owl
An orange Halloween-colored owl. His cape is designed in the shape of a feather.
Bat
A bat with a cute big nose. His cape has an image of a bat's wings.
Cat
A cat with a star-studded candy. He has a long tail.
Order Limit
Up to 2 Assort Boxes (24 Blind Boxes).
(*Please be aware that the orders with duplicated Accounts, names, address and phone numbers may be cancelled without prior notice.)
◆ Product weight:Approx.26~44g
◆ Product material:ATBC-PVC
◆ Product size:Approx. W25~37×H72~100×D25~31/mm
◆ Package size:Approx. W50×H102×D45/mm
◆ Assort Box size:Approx. W201×H107×D135/mm
◆1 Blind Box : ¥935 (excl. tax ¥850)
◆1 Assort Box (Contains 12 Blind Boxes) : ¥11,220(excl. tax ¥10,200 )
(*Please note that not all types may be available even when purchased in the assort box.)
You can earn the following SA points via the official SA app for this item.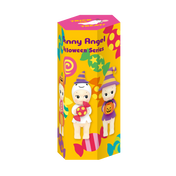 Halloween Series 2021
SA Point 1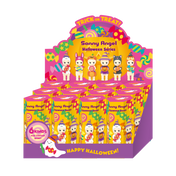 Halloween Series 2021 Assort Box
SA Point 12
If you register as a new member of the SA App using the same email address as the login email address of this official online store, you will be able to accumulate SA Points in the App.Earn SA points for purchases at the Sonny Angel Official Store which you can redeem for wonderful prizes!
For more details, click here>>
Please see before making a purchase
OFFICIAL SNS