SOLD OUT
Gee -sorry angel- Series 4
SOLD OUT
Gee -sorry angel- Series 4
Gee is an angelic boy with wings on his back who transforms himself with various expressions and disguises.
Each looks different, but they are all the same person; Gee. Why is he called "Sorry Angel"? Because Gee loves playing tricks and he apologizes when scolded. He says "Sorry" so often, he has become known as Gee Sorry but we don't think he is sincere. Still, no one can stay mad at him because of his charming personality.

Gee -sorry angel- series 4 is finally here, with 12 new designs to add to your Gee collection!
The figures are more detailed and more exciting than ever before!
Try your luck in collecting them all!
Figures comes in a blind box and let's open the box to see what you get!
Total lineup of 12 different figures + Secret figures.
One assortment box contains 12 blind boxes.
(*The secret figures are distributed randomly and may not always be included in one assort box.)
Gee - Sorry Angel - Website for more updates on Gee's Story!
◆Product size : Approx. W50×H75×D30/mm
◆Product material : ATBC-PVC
◆Package size : Approx. W55×H85×D48/mm
◆Package material : Paper / PET
◆1 Blind Box : ¥935 (excl. tax ¥850)
◆1 Assort Box (Contains 12 Blind Boxes) : ¥11,220 (excl. tax ¥10,200)
(*Figures are distributed randomly. Please note that this assort box may not include all figures in the series.)
You can earn the following SA points via the official SA app for this item.
GEE - sorry angel - Series 4
SA Point 1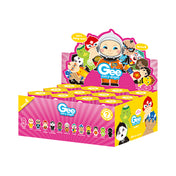 GEE - sorry angel - Series 4 AssortBox
SA Point 12
If you register as a new member of the SA App using the same email address as the login email address of this official online store, you will be able to accumulate SA Points in the App.Earn SA points for purchases at the Sonny Angel Official Store which you can redeem for wonderful prizes!
For more details, click here>>
Please see before making a purchase
OFFICIAL SNS