New Release:Demonstrate your love with a Sonny Angel Flower Gift!
『Sonny Angel mini figure Flower Gift』
A Sonny Angel Lion figure delivers flowers and warm feelings.
This new Sonny Angel special series is sure to be a new favorite among fans.
Sonny Angel Lions are presenting flowers and have manes decorated with matching blossoms.
The Sunflower, Daisy and Rose each has a specific meaning… longing, hope and beauty respectively.
These mini figures will help you convey your feelings of love and appreciation to the recipient.
The Sonny Angel Flower Gift figure can be given for any occasion for which you might send a floral bouquet. Or any time you want to say "thank you" or "I love you" with a small gift. Anyone would be happy to receive a Flower Gift figure.
Flowers are believed to have a healing effect. Display your Sonny Angel Flower Lion in your room to brighten up the space and bring a smile to your face.
The package, which is designed with a ribbon on the image of a bouquet, is appropriately decorated as a gift. There is also a space where you can write a message.
There are 6 types of figures + 2 secrets for a total of 8 types.
. Half the fun is finding out which Sonny Angel you will meet when you open the package.
■『Sonny Angel mini figure Flower Gift』Line up
Sunflower
The meaning of the sunflower is "admiration", "passion", "only have eyes for you", etc. Sunflowers convey many positive messages and are the perfect flower for when you want to send greetings to someone you care about.
Sunflower Lion Blue
Sunflower Lion Mint Green
Rose
The meaning of roses is often understood as "love" and "beauty," with red roses especially associated with the sentiment "I love you." Purple roses are said to convey messages of "pride" and "respect".
Rose Lion Pink
Rose Lion Yellow
Daisy
Daisies have cheerful meanings such as "peace," "hope," and "energy." When you want to deliver upbeat messages to your loved ones, the Daisy Flower Lion will do the trick.
Daisy Lion Lime Green
Daisy Lion Orange
Rainbow Sunflower ※Secret
Rainbows are often thought of as symbols of good luck. Wishes come true and good things are about to happen when you spot a rainbow. The Rainbow Sunflower secret figure is a rare and special way to convey special messages of admiration.
Sunflower Lion Rainbow
Robby Lion Rainbow
※Sonny Angel mini figure Flower Gift will be released on the 10th March, 2023.
※Release dates vary by country.
※Secret means a figure that has a lower appearance rate than regular figures.
※Please note : Release date and product specifications may be changed, postponed or canceled without notice.
■You can get "Sonny Angel Memo Pad"!
To celebrate the release of the Sonny Angel mini figure Flower Gift, we are giving away a FREE Sonny Angel memo pad with purchase of more than 5500 yen(incl.tax/5,000yen Excluding tax) at our online store.
■Campaign Period:From the order on 10th March, 2023 -Ends as soon as it runs out.
*Includes pre-orders for "Sonny Angel mini figure Flower Gift".
*Please note: One Masking Tape will be given for each transaction.
*Please note: For orders of large number or orders from the same customer, you may be asked to adjust or we might limit the number of memo pad distribution.
*Please note: The content of the campaign is subject to change or termination without notice.
◆ Product weight:Approx.32~34g
◆ Product material:ATBC-PVC
◆ Product size:Approx.W38~53×H79×D38~51/mm
◆ Package size:Approx. W60×H102×D60/mm
◆ Assort Box size:Approx. W190×H107×D110/mm
◆1 Blind Box : ¥1,100 (excl. tax ¥1,000)
◆1 Assort Box (Contains 6 Blind Boxes) : ¥6,600(excl. tax ¥6,000 )
(*Please note that not all types may be available even when purchased in the assort box.)
Order Limit
Up to 4 Assort Boxes (24 Blind Boxes)
(*Please be aware that the orders with duplicated Accounts, names, address and phone numbers may be cancelled without prior notice.)
You can earn the following SA points via the official SA app for this item.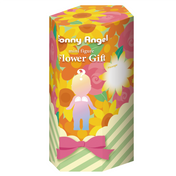 Flower Gift
SA Point 1
Flower Gift AssortBox
SA Point 6
If you register as a new member of the SA App using the same email address as the login email address of this official online store, you will be able to accumulate SA Points in the App.Earn SA points for purchases at the Sonny Angel Official Store which you can redeem for wonderful prizes!
For more details, click here>>
Please see before making a purchase
OFFICIAL SNS