SOLD OUT
Enjoy The Moment
SOLD OUT
Enjoy The Moment
New Release :『Sonny Angel mini figure Enjoy The Moment』Spend some time with Sonny Angel. He will bring comfort to your soul and happiness to your home.
This series expresses Sonny Angel having fun at home. Writing in his diary, listening to music, brewing a cup of coffee, arranging flowers, meditating. Sonny Angel's calm and happy appearance will bring healing to your heart. Are you tired or stressed out? Refresh yourself and find comfort in your daily routine like Sonny Angel does!
The design inspiration for this series is the theme, "Take your time, enjoy the moment, and everything's going to be alright." Sonny Angel's calm and happy appearance will bring healing to your heart.
6kinds + 2secrets. 1assort box contain 6 blind boxes. There may also be random accessory charms as extras.
■『Sonny Angel mini figure Enjoy The Moment』Line up
Enjoy Music
Sonny Angel closes his eyes and listens to Robby Angel's recordings to calm his mind. Let the music melt away your daily worries.
Diary Time
Write your daily activities and feelings in your diary. We are all curious to see what Robbie Angel will write in his diary.
Close to Nature
Beautiful flowers soothe the soul. Join Sonny Angel as he prunes flowering trees and decorate your room to add color and bring nature into your life.
Easy Moment
Take a break from all that is hectic in your life. Enjoy the aroma of coffee and marvel at Robby Angel's latte art while sipping your favorite beverage with Sonny Angel.
Capture Warmth
Capture images of beautiful scenery or of friends and family. The photos you take will allow you to revisit your precious memories over and over.
Spiritual Growth
Feeling tired or worn out? Try yoga or meditation to restore balance to your mind and body. Meditation improves concentration and refreshes the brain.
Friendship Work With Robby Angel ※Secret
Sonny Angel crafts an embroidered gift for Robby Angel. Creating and the sense of satisfaction and accomplishment help to release your stress.
Friendship Work With Sonny Angel ※Secret
Robby Angel assists Sonny Angel in his crafting. Double your fun and enjoyment when you do a creative project with someone else.
FREE GIVE AWAY is over because the distribution quantity has been reached.
◆ Product weight:Approx.26.6~41.3g
◆ Product material:ATBC-PVC
◆ Product size:Approx.W25~37×H42~95×D24~44/mm
◆ Package size:Approx. W60×H102×D60/mm
◆ Assort Box size:Approx. W185×H107×D135/mm
◆1 Blind Box : ¥1,100 (excl. tax ¥1,000)
◆1 Assort Box (Contains 6 Blind Boxes) : ¥6,600(excl. tax ¥6,000 )
(*Please note that not all types may be available even when purchased in the assort box.)
Order Limit
Up to 4 Assort Boxes (24 Blind Boxes).
(*Please be aware that the orders with duplicated Accounts, names, address and phone numbers may be cancelled without prior notice.)
You can earn the following SA points via the official SA app for this item.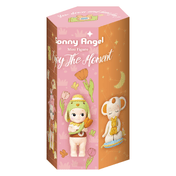 Enjoy The Moment
SA Point 1
Enjoy The Moment AssortBox
SA Point 6
If you register as a new member of the SA App using the same email address as the login email address of this official online store, you will be able to accumulate SA Points in the App.Earn SA points for purchases at the Sonny Angel Official Store which you can redeem for wonderful prizes!
For more details, click here>>
Please see before making a purchase
OFFICIAL SNS