SOLD OUT
Creatures Series
SOLD OUT
Creatures Series
New Release:「Sonny Angel mini figure Creatures series - Collaboration with Donna Wilson-」
Dreams has collaborated with London-based textile artist and designer Donna Wilson.
Donna Wilson's Creatures include mysterious and lovely characters knitted from the softest lambswool and cashmere yarns.
With this series, Creatures has been brought into the world of Sonny Angel.
Creatures are playful and unique, cute, surreal, and witty. 12 kinds + 1secret
Dreams shares Donna Wilson's love of a playful design aesthetic with a hint of surrealism and a witty worldview. These unique and exciting mini figures were designed with the synergy derived from the collaboration of Sonny Angel and Creatures.
One of Creatures' most attractive features, the eyes, were interpreted on Sonny Angel through repeated trial and error. We strived to find the best way to represent Creatures eyes regardless of angle from which they are viewed.
Many of mini figures in this series also have tails, resulting in handsome back views that complete the designs.
The warm colors of the packaging are reminiscent of knitted plush toys. Donna Wilson's illustrations are tantalizing designs that are just the beginning of the Creature's story.
■『Sonny Angel mini figure Creatures series -collaboration with Donna Wilson-』ラインナップ
Cyril
Cyril is one of Donna Wilson's first creatures and, she acknowledges, her "long-time love." He is half fox, half squirrel. Cyril is mischievous and likes marmalade, but he dislikes cottage cheese. His impish face, combined with Sonny Angel's innocence, makes him very lovable.
Rudie
Rudie the Raccoon is Cyril's friend sporting a cute little tail. He scratches and claws at everyone's belongings. Rudie looks like a fashionable thief and makes everyday life exciting. His bandit-like cool appearance is striking as his his soothing brown color and striped tail.
Richie
Richie the Lion loves '80's aerobics even if his appearance doesn't lead you to think that he exercises. His trademark mane and floppy tail have also been beautifully recreated in the Sonny Angel mini figure. Who wouldn't love Richie's mustachioed facial expression.
Digby
Digby eats a lot of spicy chorizo sausage all the while maintaining an expression-less face. However, when he sees a guinea pig, which he does not like, he freezes up. His little goatee is irresistible making Digby one of Donna's most popular characters. His black and white color scheme coordinates perfectly with minimalist interiors.
Mono Cat
Is Mono Cat a zebra with a long tail or a cat? He loves Mint Humbugs; maybe that's how his eyes became green! He is a fashionable cat that you can't help but love. With his conspicuous white and black striped pattern, this cat will liven up a simple room.
Charlie
Charlie the monkey has a showy personality. He excels at dancing with his long arms, legs and tail, but he seems to have a hard time with thunder. His pouty lips are charming, and his good-naturedness is hard to hate. If you put him in a high place like a monkey, your room will become a fun space.
Pia
Everyone loves pandas, but Donna's magic has made them even more attractive. The sophistication of the panda's classic black and white coloring attracts all who see it. Pia tries to help save the planet but his naughty little secret is that he loves fast cars.
Rusty
Rusty loves to play with fallen leaves in autumn. But he dislikes toads. Looking a bit like a lop-eared rabbit with long, drooping ears, or like basset hound, this red creature is shrouded in mystery. His bright red color will cheer you up and help you keep going when you're tired.
Bibi
Bibi is a little bear with a pampered personality who moves at his own pace. He dislikes strong perfume and fast movements but likes strawberry lace licorice. Bibi's glossy black color gives him a luxurious look, and the trademark red polka-dot scarf makes him even more colorful and fashionable.
Rill
Rill is a very active boy. He has a mischievous face and is always running around looking for caterpillars and worms. He easily gets into mischief, but he is so cute that you can't help but want to take care of him. Rill's soft and natural coloring match his outdoor surroundings.
Cilla
Cilla the chinchilla loves to sing at the top of his lungs and hates quiet places. His rounded pink ears, light gray body, and black tail as big as his body are charming qualities. His long nose has been skillfully recreated in the Sonny Angel mini figure.
Brian
Brian is a long-eared bunny. He used to be a magician's assistant before his tail fell off. There is something about Brian's expression and silhouette that are soothing to look at.
Peanut ※Secret
It takes me a while to come out of my shell but once I do, I'm the life and soul of the party. Did you know he was named after Donna's sister's baby bump? Peanut conveys a different presence than other Creatures making it a perfect "secret" for this series.
Donna Wilson
Textile Artist / Designer
Donna Wilson grew up in rural Aberdeenshire, in the northeast of Scotland, where she spent her childhood on her family's farm, surrounded by nature. She made her first knitted lambswool creature while studying at the Royal College of Art in London. Since then, Donna has built a business selling her unique, colorful homeware, knitwear, accessories, and odd objects around the world. The Donna Wilson studio is currently based in London.
『Sonny Angel+Donna Wilson』 Postcard Giveaway
If you purchase the "Sonny Angel mini figure Creatures series - Collaboration with Donna Wilson-" at Sonny Angel Japan Store right now,We are giving away a original postcard.
Please use this opportunity.
*Postcard will be included for each account including 1 or more "Sonny Angel mini figure Creatures series - Collaboration with Donna Wilson-".
* It will end as soon as it runs out.
Order Limit
Up to 2 Assort Boxes (24 Blind Boxes).
(*Please be aware that the orders with duplicated Accounts, names, address and phone numbers may be cancelled without prior notice.)
◆ Product weight:Approx.25~34g
◆ Product material:ATBC-PVC
◆ Product size:Approx.W38~46×H74~98×D25~37/mm
◆ Package size:Approx. W50×H102×D45/mm
◆ Assort Box size:Approx. W201×H107×D135/mm
◆1 Blind Box : ¥1,210 (excl. tax ¥1,100)
◆1 Assort Box (Contains 12 Blind Boxes) : ¥14,520(excl. tax ¥13,200 )
(*Please note that not all types may be available even when purchased in the assort box.)
You can earn the following SA points via the official SA app for this item.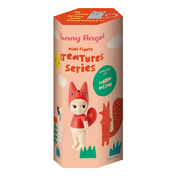 1 Blind Box
SA Point 1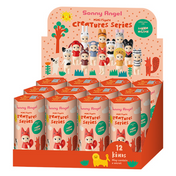 Assort box (12 Blind Box)
SA Point 12
If you register as a new member of the SA App using the same email address as the login email address of this official online store, you will be able to accumulate SA Points in the App.Earn SA points for purchases at the Sonny Angel Official Store which you can redeem for wonderful prizes!
For more details, click here>>
Please see before making a purchase
OFFICIAL SNS