SOLD OUT
Robby Angel Collecter's Trophy Gold
SOLD OUT
Robby Angel Collecter's Trophy Gold
The long-awaited new color has appeared in the Robby Angel Collector's Trophy ♪
New Release:『Robby Angel Collector's Trophy Gold』!!
The supreme collector's item "Collector's Trophy". Following the "Robby Angel Collector's Trophy Pink/Violet" sold on August and October, a new color has arrived!
This time, the Robby Angel turned gold.
The profound trophy is very attractive as the interior of the room.
It's also nice to display alongside the Sonny Angel Collector's Trophy.
The serial number is engraved on the gold plate on the base. A card with a serial number is also included.
Why don't you meet only one Robby Angel in the world?
◆ Product weight:Approx. 1.2g
◆ Product material:Polystone
◆ Product size:Approx. W108×H220×D108/mm
◆ Package size:Approx. W180×H275×D165/mm

Order Limit
Up to 2 set.
(*Please be aware that the orders with duplicated Accounts, names, address and phone numbers may be cancelled without prior notice.)
You can earn the following SA points via the official SA app for this item.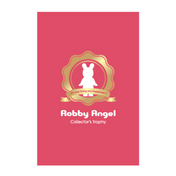 Robby Angel Collecter's Trophy Gold
SA Point 30
If you register as a new member of the SA App using the same email address as the login email address of this official online store, you will be able to accumulate SA Points in the App.Earn SA points for purchases at the Sonny Angel Official Store which you can redeem for wonderful prizes!
For more details, click here>>
Please see before making a purchase
OFFICIAL SNS