NEW
Christmas Ornament 2023
NEW
Christmas Ornament 2023
Decorate in style this holiday season with Sonny Angel. New Release : 「Sonny Angel mini figure Christmas Ornament」
This multi-use item can be displayed hanging on a holiday tree or wreath as an ornament or can be enjoyed as a standing mini figure. A selection of the most popular animal figures dressed in colorful patterns will bring you joy this Christmas season. Gold accents on each figure shine brightly adding more glamor to these Christmas angels. Enjoy a special Christmas with Sonny Angel this year!
As decorative figures, you can easily spruce up your holiday decorations with the Sonny Angel Christmas Ornament Collection.
All mini figures are pre-strung and come ready to be displayed as a hanging ornament.
There are 6 types of regular figures + 1 secret for a total of 7 types. Half the fun is finding out which Sonny Angel you will meet when you open the package.
■『Sonny Angel mini figure Christmas Ornament』Line up
Regular Figures:6 types
The most popular animal styles are decorated with bright colors, Christmas patterns and Santa hats. With shimmering gold accents, this series will create a gorgeous Christmas atmosphere anywhere!
Reindeer
Cheetah
Koala
Sloth
Rabbit
Sheep
Secret Figure
This special lop-eared rabbit figure has a pearlescent finish with shining gold stars. He is sure to bring elegance and glamor wherever he goes.
Lop Ear Rabbit
◆ Product weight:Approx.41~49g
◆ Product material:ATBC-PVC,Stainless,Polyester
◆ Product size:Approx. W25~43×H83~87×D28~35/mm
◆ Package size:Approx. W60×H102×D60/mm
◆ Assort Box size:Approx. W185×H105×D110/mm
◆1 Blind Box : ¥1,100 (excl. tax ¥1,000)
◆1 Assort Box (Contains 6 Blind Boxes) : ¥6,600(excl. tax ¥6,000 )
(*Please note that not all types may be available even when purchased in the assort box.)
『Sonny Angel mini figure Christmas Ornament』will be released on the 17th November, 2023. ※Release dates vary by country.
※Secret Figures means a figure that has a lower appearance rate than regular figures.
※Please note : Release date and product specifications may be changed, postponed or canceled without notice.
■『Sonny Angel Wooden Christmas Tree』-Ornament Type
Sonny Angel original wooden Christmas tree, can hang 7 figures. It will be easy way to add a Christmas scent to a room.
◆ Product weight:Approx.700g
◆ Product material:Wood
◆ Product size:Approx.W240 ×H330×D110/mm
◆ Package size:Approx.W275×H330×D65/mm
Order Limit
『Sonny Angel mini figure Christmas Ornament 2023 』…Up to 4 Assort Boxes (24 Blind Boxes)
『Sonny Angel Wooden Christmas Tree』-Ornament Type…Up to 2
(*Please be aware that the orders with duplicated Accounts, names, address and phone numbers may be cancelled without prior notice.)
You can earn the following SA points via the official SA app for this item.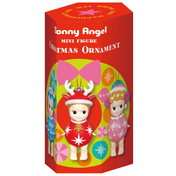 Christmas Ornament 2023
SA Point 1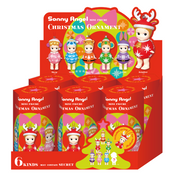 Christmas Ornament 2023 Assortment Box
SA Point 6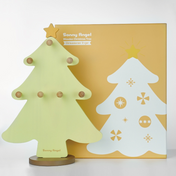 Sonny Angel Wooden Christmas Tree (Ornament Type)
SA Point 0
If you register as a new member of the SA App using the same email address as the login email address of this official online store, you will be able to accumulate SA Points in the App.Earn SA points for purchases at the Sonny Angel Official Store which you can redeem for wonderful prizes!
For more details, click here>>
Please see before making a purchase
OFFICIAL SNS