SOLD OUT
Cherry Blossom Series -Night Version-
SOLD OUT
Cherry Blossom Series -Night Version-
Cherry Blossoms At Night bring the colors of the spring season into your home. The Sonny Angel series themed, "Sakura at night", is here! New Release:『Sonny Angel Cherry Blossom Series -Night Version-』
Figures from the popular "Cherry Blossom Series", released in 2019, are now available with different coloring.
In this series, Sonny Angel dreams about the beauty of cherry blossoms at night. And like actual cherry blossoms, the Sonny Angel Cherry Blossom Series – Night Version, can be enjoyed for only a short time.
These figures will gently watch over you and bring you peace and comfort like a nighttime cherry blossom illuminated by the soft moonlight.
Images of cherry blossoms are seen in various locations on these angels such as on the rabbit's ears and in the peacock's feathers. The elegant and sophisticated images of "Sakura at night" are expressed in pale purple hues.
Cherry blossoms are richly symbolic, and have been utilized often in Japanese art, manga, anime, and film. Now, you can enjoy Cherry Blossoms At Night with Sonny Angel in your home.
Order Limit
Up to 2 Assort Boxes (24 Blind Boxes).
(*Please be aware that the orders with duplicated Accounts, names, address and phone numbers may be cancelled without prior notice.)
◆ Product weight:Approx.28~30g
◆ Product material:ATBC-PVC
◆ Product size:Approx. W40×H77~99×D25~36/mm
◆ Package size:Approx. W50×H102×D45/mm
◆ Assort Box size:Approx. W201×H107×D135/mm
◆1 Blind Box : ¥935 (excl. tax ¥850)
◆1 Assort Box (Contains 12 Blind Boxes) : ¥11,220(excl. tax ¥10,200 )
(*Please note that not all types may be available even when purchased in the assort box.)
You can earn the following SA points via the official SA app for this item.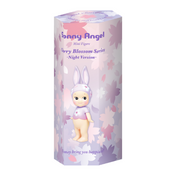 Cherry Blossom Series -Night Version-
SA Point 1
Cherry Blossom Series -Night Version- Assort Box
SA Point 12
If you register as a new member of the SA App using the same email address as the login email address of this official online store, you will be able to accumulate SA Points in the App.Earn SA points for purchases at the Sonny Angel Official Store which you can redeem for wonderful prizes!
For more details, click here>>
Please see before making a purchase
OFFICIAL SNS