New Release : Take a peek into the fantastic world of bugs created by Sonny Angel!『Sonny Angel mini figure Bug's World』
As the colors of flowers and grasses change, we feel the arrival of spring. This new collection of Sonny Angel mini figures expresses the spring awakening of the beautiful world of nature. Return to childhood memories of being fascinated by insects to experience the senses of blessing, renewal and healing that come from nature. Won't you take a peek into the fantastic world of bugs created by Sonny Angel? 6kinds + 2secrets
When you look at Sonny Angel surrounded by plants and flowers, you feel the natural healing power that calms the mind. Sonny Angel Bug's World figures will bring the joy of nature into room interiors or be a cute houseplant or garden decoration.
As the colors of flowers and grasses change, we feel the a+D8rrival of spring. This new collection of Sonny Angel mini figures expresses the spring awa+
■『Sonny Angel mini figure Bug's World』Line up
Ladybug
The Ladybug has a lovely design with large dots and an overall rounded silhouette. The wings opened softly like a robe, giving an elegant impression.
Dragonfly
The Dragonfly has distinguishing straight and beautiful wings. Its coloring is gorgeous and lively and it looks as if it is about to flap its wings.
Ant
The Ant holds his favorite sweet cookie in both hands. Its small antennae and lovely round eyes are full of charm. The bright, fresh blue coloring also gives a sense of familiarity.
Butterfly
The Butterfly flutters gracefully in the sky. The gentle pink coloring of the head accented by the purple wings creates a spring-like ambience and brings out the charm of the Sonny Angel.
Snail
The Snail's emblematic swirling shell is vivid pink. It may be small, but it has a large presence. Despite the Snail's lopsided silhouette, it maintains a sense of humor and looks naturally adorable.
Caterpillar
The Caterpillar happily holds an apple into which it has taken a bite. Its expression is that of a boy with a voracious appetite. The eye-catching, bright colors make your heart jump at first sight.
Bumblebee※Secret
The Sonny Angel Bumblebee has a large, fluffy, round bottom. Its little stinger is adorable. The pearlized gold color gives the Bumblebee the luxurious look that is perfect for a "secret" Sonny Angel.
Robby Angel – Bumblebee style - ※Secret
Robby Angel wears a hat but cannot hide the shape of his ears. He wears round pants imitating a bumblebee and looks very cute standing on a petal pedestal.
You can get "Sonny Angel Magnet"!
To celebrate the release of the Sonny Angel Bug's World series we are giving away a FREE Sonny Angel can magnet with purchase of more than 5500yen(incl.tax) at our online store.
Campaign Period:From the order on 28th April, 2022 -Ends as soon as it runs out.
*Includes pre-orders for Bug's world series.
*Please note:One Magnet will be given for each transaction.
*Please note: For orders of large number or orders from the same customer, you may be asked to adjust or we might limit the number of magnet distribution.
*Please note:The content of the campaign is subject to change or termination without notice.
Order Limit
Up to 2 Assort Boxes (24 Blind Boxes).
(*Please be aware that the orders with duplicated Accounts, names, address and phone numbers may be cancelled without prior notice.)
◆ Product weight:Approx.29~33g
◆ Product material:ATBC-PVC
◆ Product size:Approx.W27~44×H75~80×D26~37/mm
◆ Package size:Approx. W50×H102×D45/mm
◆ Assort Box size:Approx. W201×H107×D135/mm
◆1 Blind Box : ¥1,100 (excl. tax ¥1,000)
◆1 Assort Box (Contains 12 Blind Boxes) : ¥13,200(excl. tax ¥12,000 )
(*Please note that not all types may be available even when purchased in the assort box.)
You can earn the following SA points via the official SA app for this item.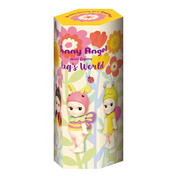 1 Blind Box
SA Point 1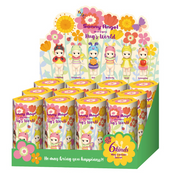 Assort box (12 Blind Box)
SA Point 12
If you register as a new member of the SA App using the same email address as the login email address of this official online store, you will be able to accumulate SA Points in the App.Earn SA points for purchases at the Sonny Angel Official Store which you can redeem for wonderful prizes!
For more details, click here>>
Please see before making a purchase
OFFICIAL SNS