NEW SOLD OUT
Acrylic Display Case 2022
NEW SOLD OUT
Acrylic Display Case 2022
Display your favorite Sonny Angel ♪ New Release:"Acrylic Display Case 2022" !!
Introducing the "Acrylic Display Case" that you can decorate your favorite Sonny Angel!
The natural wood grain is match the interior of the room and gives a warm impression.
You can display up to 12 minifigures in the display case.
It will be more fun to decorate each series together, select and decorate your favorite Sonny Angel, and collect Sonny Angel.
The display case comes with a display sheet to enjoy three different designs.
You can enjoy various ways of showing according to minifigures to be displayed and the atmosphere of the room.
The display case has a built-in LED light. Beautiful display is possible even in dark places ♪
◆Product material :acrylic/wood ※Built-in LED light
◆Product size : Approx. W29.5×H20×D14.5/cm
◆Package size : Approx. W37×H22×D8.5/cm
※Figures are not attached to the product.
Order Limit:
Up to 2 Set.
(*Please be aware that orders with duplicated accounts, names, addresses or phone numbers may be cancelled without prior notice.)
You can earn the following SA points via the official SA app for this item.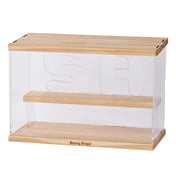 Acrylic Display Case 2022
SA Point 6
If you register as a new member of the SA App using the same email address as the login email address of this official online store, you will be able to accumulate SA Points in the App.Earn SA points for purchases at the Sonny Angel Official Store which you can redeem for wonderful prizes!
For more details, click here>>
Please see before making a purchase
OFFICIAL SNS