TOKYO CITY MENTAL/nisenchimentaru
TOKYO CITY MENTAL/nisenchimentaru
The TOKYO CITY POP theme made me imagine a bright, graphic design. The cake that forms Sonny Angel's torso is surrounded by buildings and finished in bright colors like primaries and pastels.
With the yellow sky and the three calm colors on Sonny Angel's head, I hope I've succeeded in creating a bit of a strange futuristic feeling that you associate with CITY POP.
I found Sonny Angel's triangular eyebrows so cute and had lots of fun working with acrylic gouache.
You can earn the following SA points via the official SA app for this item.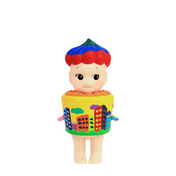 TOKYO CITY MENTAL/nisenchimentaru
SA Point 50
If you register as a new member of the SA App using the same email address as the login email address of this official online store, you will be able to accumulate SA Points in the App.Earn SA points for purchases at the Sonny Angel Official Store which you can redeem for wonderful prizes!
For more details, click here>>
Please see before making a purchase
OFFICIAL SNS