Creating this work, the image I had in mind was CITY POP in Tokyo, of Harajuku around the 1980s, and I've ended up with a cute, pop, pastel-colored Sonny Angel who looks like an idol wearing a fluffy pompom and a shiny, glittering glass star accessory.
But I still felt it needed a little something, so I popped a dubious-looking mushroom on Sonny Angel's head. The star-shaped decoration on his ear is intended as headgear. It can be removed and used as a pierced earring.
You can earn the following SA points via the official SA app for this item.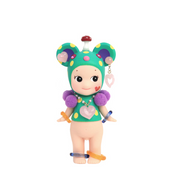 Milky heart/oba:oba
SA Point 64
If you register as a new member of the SA App using the same email address as the login email address of this official online store, you will be able to accumulate SA Points in the App.Earn SA points for purchases at the Sonny Angel Official Store which you can redeem for wonderful prizes!
For more details, click here>>
Please see before making a purchase
OFFICIAL SNS